Bobsleigh track and Lemuria in Pec pod Sněžkou
Giant Mountains are created for children. Beautiful nature, fresh air and a large number of climbing frames, slides, trampolines and tracks. This is precisely the Relaxpark in Pec pod Snezkou situated 30 kilometers from our Apartments.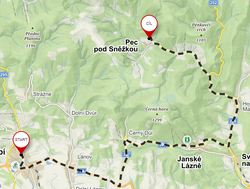 Bobsleigh ​track
The biggest attraction of the Relax Park is the 900-meter long bobsleigh track, which offers a 700-meter-long downhill course and in certain places it reaches 8 meters above the ground.
Opening hours:
30.9. - 4.11.2018
9:00 - 16:00
5.11. - 21.12.2018
SA + SU 9:00 - 16:00
Price list:
Person over 140 cm
:
90 CZK (1 ride)
350 CZK (5 rides)
600 CZK (10 rides)
Person up to 140cm:
60 CZK (1 ride) 250 CZK
(5 rides) 450 CZK (10 rides)
School groups
:
discount 20%
Lemuria
The area for both small and large children, full of long adrenaline slides, climbing frames and trampolines, is undoubtedly the most popular place for children.
Opening hours:
30.9. - 4.11. 2018:
9:00 - 16:00
November 2018 - April 2019
:
inoperative
Price list:
Base price: 1 child / 250 CZK