Lookout Tower U borovice
For those who are attracted breathtaking views and panoramas in any season is  Lookout U borovice the right choice. Lookout, which offers not only a view on the Giant mountains scenery but also those of Liberec,is located just a few kilometers from the IT Centrum Apartments. Near the lookout there is also a museum of typewriters.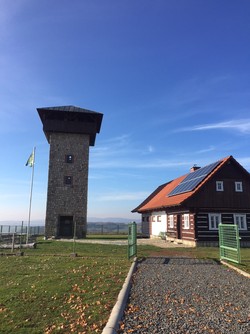 Tower is located near the village Roprachtice and is 18 meters high. Construction was completed in 2009. The lookout tower is located 25 km from Vrchlabí and can be a great variegation for example on a bike trip.
Opening hours:
In good visibility tower is opened on weekends from 10 am to 16 pm, in winter it is only opened till 15 pm.
During the holidays it is also open on weekdays from 10 am to 16 pm.
Price list:
On the lookout:
Adults 30, - CZK
Children (7-15 years) 10 CZK
The Museum of typewriters:
Adults 25, - CZK
Children (7-15 years) 5 CZK
Children under 7 are admitted free.
More info on:http://www.uborovice.cz/